We are a talented team that is committed to offering quality dental and medical procedures with the highest standards.
Dr. Ammar Mohamed
CEO / General Dentist
With a passion for dentistry, Dr. Ammar Mohamed has more than 10 years of experience in providing quality dental care. Dr. Ammar Mohamed has always been concerned about high-standard patient care. He wants to make a difference in his patient's lives by creating beautiful healthy smiles.
Dr. Mohamed stays up to date regarding modern dentistry by attending international seminars and congresses in attest technologies in the dentistry field
Qualification and Experience:
Graduate of the Faculty of Dentistry within the "Carol Davila University of Medicine" in Bucharest;
High experience in Dento-Alveolar surgery and complicated Extractions;
8+ years experience in the field of implantology and oral surgery;
6+ years experience in dental aesthetics;
Expert in root canal treatment;
6+ years experience in prosthetic dentistry;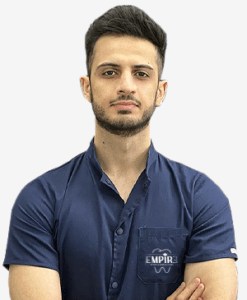 Dr. Aiad Saleh
General Dentist
My name is Dr. Aiad , I have graduated in 2019 from the University of Dentistry Titu Maiorescu in Bucharest. I always had a dream of becoming a doctor until I met a friend of mine who I work with now in the same clinic ,who advised me about getting into dentistry and I feel so lucky that I followed his advice as I found my passion in this field. I have experience of 3 years as a general dentist and I hope for more. I work 6 days a week , 10 hours per day which is hard but at the end of the day it feels amazing relieving people from pain as well as putting new smiles on their faces.
Dr. Jafar Mosa
Orthodontics Specialist
Graduate of the Faculty of Dentistry within the "Carol Davila University of Medicine" in Bucharest;
8 years lexperience in advanced Orthodontic treatments and complicated malocclusion of the teeth
7 years experience in the field of oral surgery;
5 years experience in dental aesthetics;
Dr. Alshashani Gabriel
General Dentist
My name is Dr. Alshashani Gabriel I graduated in 2020 from one on the best universities in Romania , Grigore T.Popa where i did 6 years of dental medicine . I've always knew i wanted to become a Dr treating people in need and helping them for better dental treatments quality.
Worked in Romania for a period of time , thats when I met Dr . Ammar mohammed two years ago and i decided to move to Ireland ,which was a great decision, after intensive training and seeing so many cases I've built up my experience and confidence in treating so many patients with all type of dental problems
Dr. Vanan Rajab
General Dentist
Dr.Rajab's journey began at the prestigious Medical University of Łódź, where she dedicated 5 years of intensive study. Driven by a genuine desire to make a positive impact on her patient's lives, Dr.Rajab has gained extensive experience in various aspects of dentistry.
From routine check ups to complex dental procedures, her expertise covers a wide range of treatments, including preventive, restorative and cosmetic dentistry. Dr. Rajab's warm and compassionate approach creates a comfortable and welcoming environment ,alleviating any dental anxieties, making each visit a positive experience for her patients.
She believes in establishing strong relationships built on trust and actively involving her patients in the decision making process. With commitment to excellence, she continues to positively transform smiles and improve the oral health of her patients.
Dr. Piotr Wojciechowski
Urologist
Graduated from Silesian Medical University in Zabrze, Poland. He has worked for 11 years in the Urology Department in Specialist Hospital No. 1 in Bytom, Poland. In the years 1999–2002 he was associated with the Center of Diagnostics and Laser Therapy Silesian Medical University in Bytom, Poland, one of the few reference centers in the world for photodynamic diagnostics and treatment of bladder cancer.
In 2006 he completed specialist training in Endourology at the Urology Department in the University of California Los Angeles.
In 2007 he worked (Staff Grade Urology) at the Causeway Hospital Urology Department in Coleraine, Northern Ireland, the best equipped urology ward in UK.
In 2008 he worked at the Adelaide & Meath Hospital Urology Department in Dublin, recognized as Ireland's National Urological Center.
In addition to being licensed as a doctor in Ireland, he also has registration in the United Kingdom and Spain.
Membership:
Polish Society of Urology
American Society for Photobiology
International Photodynamic Association
Specialized in prevention, diagnosis and treatment of the most common diseases of the urinary tract:
Urolithiasis
Prostate Diseases – Prostate Cancer, Prostatic Hypertrophy, Inflammation, Prostate Cancer
Erectile Dysfunction – Erectile Dysfunction, Premature Ejaculation
Urination Disorders
Urinary Tract Infection – (Blood in the Urine, Hematuria)
Urinary Stones – Urolithiasis
Kidney Disease – Kidney Tumors
Diseases of the Genital Organs